Discover Nuru Massage in Soho
Here at Love Nuru we specialise in a range of erotic massages based on ancient Asian practices such as tantric and lingam, but our nuru massage service is something altogether more special. Based on a centuries-old Japanese art, nuru utilises a unique gel made from noari seaweed (the same used to make sushi) which creates a unique silky texture, allowing your naked masseuse to slide and grind all over you, giving you an erotic encounter like no other.
Our nuru gel, sourced from Japan, allows your chosen therapist to glide across you, giving a unique body-to-body experience like no other, before finishing with an explosive orgasm. Nuru is easily our naughtiest and most unique massage, leaving clients walking on air after one of the most erotic and intimate experiences of their life. We recommend booking the best japanese soapy masseuse service (ours obviously!) with our full service option, which includes oral and penetration.  Or you could be truly adventurous and go for the four hands option, experiencing the unique pleasure of not one but two Asian beauties giving you a unique body-to-body massage.
Nuru began in Japan's notorious Yoshiwara red light district. A sister of the soap massage, it started off as a specialised service you could only find if you knew where to look in the Yoshiwara district, but soon it became such a huge hit that it exploded globally, and now people in the US, Europe, and the rest of Asia all seek out the unique delights of the nuru massage. Why not join them?
Nuru is not for the faint-hearted, and would suit the most adventurous sexual appetite. However, our experienced beauties will guide you through the experience, tailoring it to your own desires. Imagine a full hour of a close-up encounter with a gorgeous naked woman expertly grinding on you and giving you a "body slide" before bringing you to an intense climax. It's good for other 'organs' besides! Being a pure and natural gel made from seaweed, nuru is incredibly beneficial to the skin! It has even been known to reduce the appearance of scars, stretch marks, and cellulite! Many nuru gels also include other minerals and ingredients like camomile, designed to care for your skin.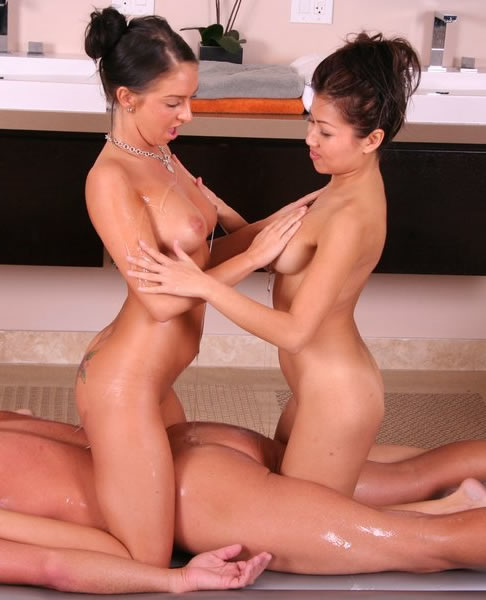 Will it be messy?
Naturally, yes! But fear not, we are well equipped to deal with it. We provide specialised nuru mattresses or sheets to protect your surroundings from getting too messy, so no matter how wild you get, it can be cleaned up easily! Better still, nuru gel is odourless and colourless, meaning it won't stain and no one has to know what you've been up to.
What is and isn't allowed?
That is entirely up to you! Our standard nuru massage london service includes a happy ending, but we highly recommend our full service for this particular massage. Who wouldn't want to go all the way with a gorgeous girl after she's rubbed her beautiful body all over you?! We do offer extras, such as French kissing and prostate massage, which all generally come at an extra £20. Be sure to discuss what you would like with your therapist first, we do have some limits (although not many!).
What will it cost?
Our nuru massage starts at £130 for an incall service and £160 for outcall. For full service its £180 and £200. This price covers a one hour session with your chosen masseuse. For a four hands experience the price is always doubled.
Can I choose the girls?
Yes you can! We have a group of stunning girls from Japan, Korea, and China to choose from. Our girls are aged from 20-35 and are all experts when it comes to their craft. You can take a look at our sensational  website gallery or book an incall session and choose in person when you come to visit. Perhaps you'll find it so hard to pick you'll just have to go for a four hands massage!